Interview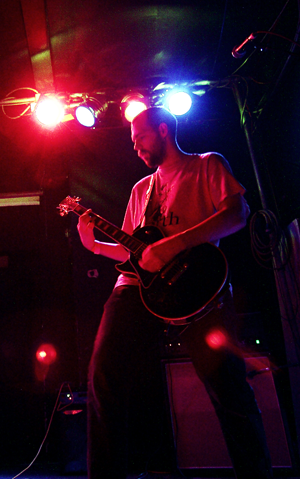 FX: How did you come to choose the band name Tacoma Narrows Bridge Disaster?
TNBD: We went through a lot of band names before we settled on this one. I watched the news-reel footage of the Tacoma Narrows bridge collapsing, and it struck a chord. Something in the geometric collapse was reflected in the music being written at the time, and the name felt right.
FX: Who and what are your common influences?
TNBD: I come from a sonic arts background. Growing up, I was always listening to a lot of textural electronic music. Then I discovered metal and rock music when I was 16 or 17. So there are a wide range of influences that go into the melting pot. I never wanted TNBD to be a classic metal band – I was always interested in injecting some textural and soundscape elements that I had grown up with.
FX: You have a new album out, "Exegesis". What were your goals and aims for this album and were you pleased with the result?
TNBD: The first album, "Collapse", was essentially us discovering what we were about. Exegesis is really our first attempt at putting together a thematic album. We based a lot of the mood and lyrical content on the works of Philip K. Dick – a writer that we all hold in high esteem. There is a fairly loose theme of psychosis in there, and our protagonist goes through some similar things that Dick himself went through. Because the theme came quite early, there is a definite 'sound' to this album, and all the songs relate to one another much more so than those on "Collapse".
FX: What was the writing and recording process like?
TNBD: Writing for us usually begins with one person. One of us will have a fairly solid idea, and the rest get to grips with it and add their touch. The original version of Calligraphy for instance was written by Tom, I think even before Collapse was recorded. The final result is a lot different however, and we changed large parts to fit with the direction for the album. It was definitely a group effort. It's quite interesting to listen to the older sketches and compare them to the final result.
We used BFD2 quite a lot throughout the writing process. Writing in a small bedroom with some amp sims and an e-kit allows us to really get down into the nitty-gritty of song writing. Something that isn't always possible when in a rehearsal room.
Recording was a very fun experience, and one I would highly recommend. We had some luck in getting a decent place to record our drums, in the form of a used furniture warehouse in London. The rest of the sounds were recorded in various rooms in each others flats. We also recorded one of the guitars in the same warehouse we did the drums in. We learnt a lot from recording "Collapse", and there are loads of resources out there now for bands who want to learn how to get a polished sound.
FX: Is there anything you would have done differently?
TNBD: There is nothing I would've done differently really. Although I think the album would've sounded drastically different if we'd tracked the whole band live in a room, rather than multi-tracked each person individually. You get a different kind of vibe to the music when you're all playing together, but you lose a little bit of tightness and perfection.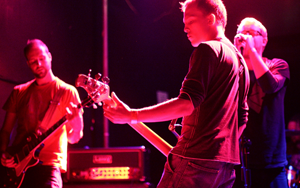 FX: Where did you record the album?
TNBD: A large warehouse space, with 16 microphones on and around the drumkit. Bass was done at my flat in North London. My guitars were done at Alex's flat, and Adam's guitars were done in a small side-room at the same warehouse. Vocals were done in a DIY vocal booth at my flat too.
FX: How did you use software instruments to enhance and add to the sound?
TNBD: We knew that we wanted some extra synth textures on the album. DCAM Synth Squad was the primary source for these sounds, although we used another hardware VA to get a few others. They were never meant to take over the rest of the music, instead they were meant to be soundbeds for everything else to sit on top of.
FX: Do you have any unique tips or tricks that you used and would like to share?
TNBD: One of my favourite things to do with Strobe and Cypher is to use the unison features, to spread a sound wide across the stereo field, and to then impart small changes in timbre – you can get some very lush textures with that alone.
As far as BFD2 goes, I'm a big fan of layering kicks, snares, and toms. You can mix and match drums together to get the attack of one drum and the tail of another, and compress them to get them gelled – sounds great!
FX: As a fairly experienced 'DIY' band with two albums under your belt, what have been the most useful tools for sharing your work and building up a fan base?
TNBD: We've been quite keen to keep some physicality with our music, so we still sell CDs. But Bandcamp, Cdbaby, and BigCartel have all been really useful for us to get our music out there. And a large part of building up a fanbase is to play gigs, and get some word of mouth spreading. The response to "Exegesis" so far has been really positive, and slightly overwhelming. People are very passionate about the album, and it's quite a surreal experience.
FX: What are your plans for the rest of the year?
TNBD: We plan on writing some new material soon, whilst keeping on top of the existing songs. There is talk about a south-coast tour, probably 4-5 dates. It will be good to get back into the 'studio' as it were and start our next album.
Interview: April 2012
Photographs by Geoff Clayton